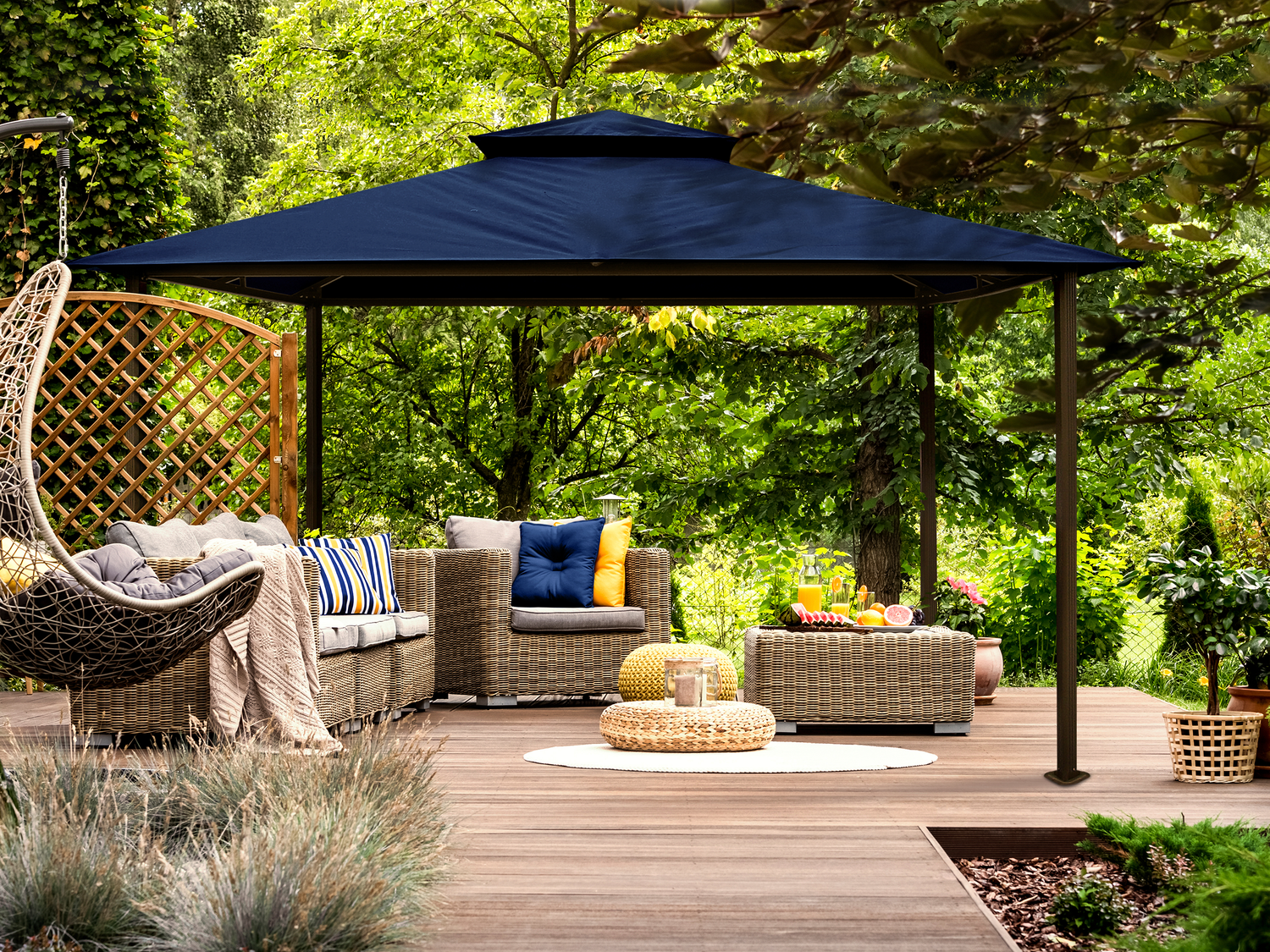 Soft-Top Gazebos
Highlight the beauty of your backyard with a shaded, breezy extension of your living space. Paragon Outdoor's soft top gazebos provide shelter from the sun while also adding style and elegance to your backyard, patio, or garden. Made with high-quality aluminum and weather-resistant fabric, our canopy top gazebos are durable, reliable, and designed to withstand the elements.
With a range of sizes and styles to choose from, our soft top gazebos can flawlessly fit any space and aesthetic. Whether you prefer a classic, traditional look or a more modern, contemporary design, we have the perfect gazebo for you. Our fabric top gazebos are also available in a variety of colors, allowing you to choose the one that best complements your outdoor decor.
Take a look at our available options to find a soft top gazebo that will help you transform your outdoor space into a paradise.
Frequently Asked Questions
Why should I choose Paragon Outdoor?

Our outdoor structures provide protection against the elements and are a stylish addition to your outdoor space for the whole family that is elegant, timeless and functional. We source and manufacture high-quality materials so that you can put a spotlight on your backyard while benefiting from years of use. 
Should I buy a gazebo or pergola?

This depends on the degree of coverage and the look you are going for. Our hard top gazebos offer year-round protection from the elements, including rain and snow, while our soft top gazebos are a great shelter from the rain and sun. Our pergolas offer a more airy look and feel by creating a beautiful pattern of sun and shade.
How do I select by gazebo or pergola?

Our products come in an array of sizes and designs to fit any backyard space. If you are looking to host garden gatherings for a larger group, several of our pergola and gazebo models are available in sizes up to 12x20'. For a smaller backyard space, we offer gazebo and pergola designs in more compact sizes (10x10', 11x11'). You can consult your landscape designer to select a backyard structure that is the best fit for your space.  
What materials does Paragon Outdoor use?

At Paragon Outdoor, we ethically source the highest quality materials to provide for both a beautiful look and durability so that our products continue to serve you for years to come. The products are made from the highest quality aluminium extrusions and are then coated with UV rated heat transferred wood-look finish.
Where are Paragon Outdoor products manufactured?

Our products are designed in the US and manufactured by our trusted partner in Taiwan.
Do you offer a warranty on your products?

Yes. Our warranty terms and conditions vary by model and can be found in the product pages and assembly instruction manuals.
How will my outdoor structure arrive?

Our products are shipped in multiple boxes, depending on the model. While some models will arrive with FedEx/UPS, others arrive on a pallet.
Are your gazebos and pergolas difficult to assemble?

Our gazebos and pergolas do not require assembly by a licensed installer. All structures are designed to be assembled by DIYers.  However, with some of our products, you may need assistance with the larger parts as well as to reduce the overall installation time.
Do I need a building permit?

While pergolas and gazebos are not considered permanent structures, we advise that you check with your municipality before installing, as some municipalities can limit the size of the structures you can install on your property.